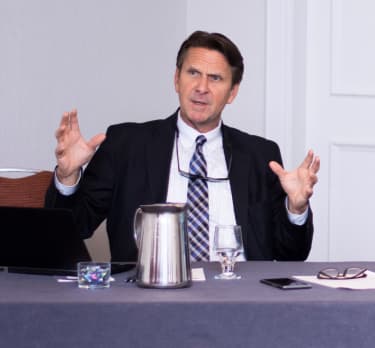 Paul Pelletier
Paul Pelletier, a white-collar defence partner with Pepper Hamilton in Washington, DC, officially unveiled on 1 November his campaign for Congress in 2018.
He is now the ninth Democratic candidate seeking the nomination to challenge the Republican incumbent, Representative Barbara Comstock, for the 10th district in Northern Virginia.
A veteran of the Justice Department, Pelletier spent 27 years as a prosecutor, serving first as an assistant US attorney in Miami before moving to Washington, DC, rising to principal deputy chief in the criminal division's fraud section. He stayed at Main Justice for nine years – overseeing accounting, foreign corruption and healthcare fraud cases.
Beloved by line prosecutors but considered too hard-charging by criminal division leadership during the Obama administration, Pelletier left the DOJ for private practice in 2011. His career was detailed in a book, "The Chickenshit Club," by journalist Jesse Eisinger, that blamed the lack of prosecutions of executives responsible for the 2008 Wall Street collapse on the cautious and more political approach to law enforcement favoured by then-criminal division chief Lanny Breuer.
When asked why he chose to run, Pelletier – who grew up in a large family south of Boston – said he's always been interested in politics but now feels the need to do something more. He said the election of President Donald Trump "certainly was the impetus".
Pelletier believes his prosecutorial background makes him the ideal candidate to run because, like many parts of the US, Northern Virginia has been blighted by the opioid crisis and its people will be deeply affected by any changes to the Affordable Care Act.
"I'm not an establishment politician," he said in a phone interview. "I've spent the last 20 years fighting drug trafficking, healthcare fraud in ways no one else has done."
He recalled how for many years during his prosecutorial career a bipartisan Congress rallied to equip prosecutors with the tools they needed to fight drug and healthcare problems.
When Pelletier started out as a tax prosecutor in Miami, he remembered catching drug dealers and just forcing them to pay what they owed to the IRS. "People were getting large amounts of drugs and getting no jail time," he said. "It was crazy."
As a result, Congress toughened sentencing guidelines and introduced anti-money-laundering rules.
When he took on healthcare fraud in the late 1990s, and accounting fraud in the early 2000s, a bipartisan Congress again worked together to create laws that helped prosecutors, Pelletier said. "A lot of this was serendipity for me," he added.
But after the financial crisis in 2008, Congress failed to enact the laws needed to go after wrongdoing – a product of partisan politics, Pelletier said. "It seems the situation has gotten worse."
Referring to his time as a prosecutor and how Congress helped him and his colleagues, Pelletier said: "I see where the problems are and where to fix it."
When asked what he thinks about Comstock's record, Pelletier retorted: "What she's done? Or what she hasn't done?"
He criticised her failure to present a solution to the problems created by the Affordable Care Act – though he emphasises he supports the statute. "I'm completely devoted to make health care cost effective to everyone," he said.
The Democratic primary is scheduled for June 2018, and the midterm election is set for November that year.