GIR Awards 2022: nominations wanted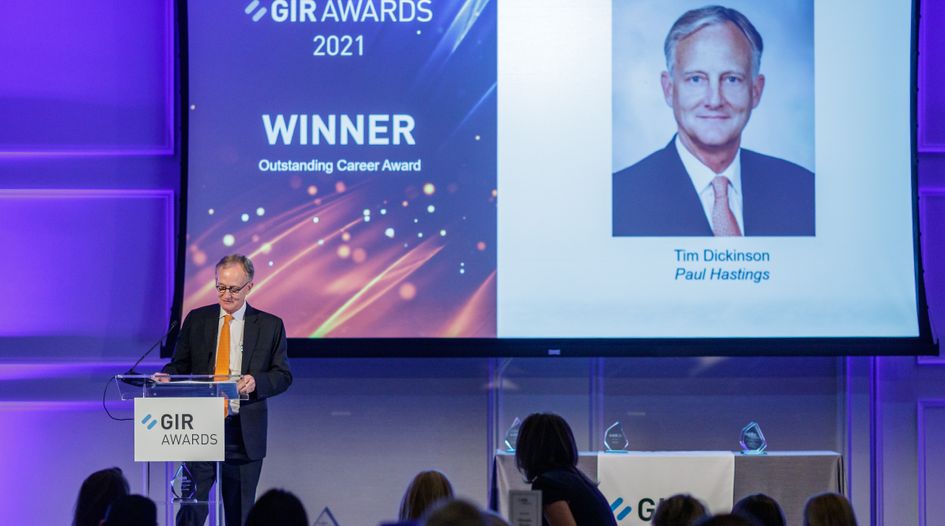 Readers can now submit nominations for GIR's eighth annual awards ceremony, to be held in Washington, DC, on 17 November.
The black-tie event includes a drinks reception and dinner at the Four Seasons Hotel in DC, and is held in support of the Swawou Layout Girl's School in Kenema, Sierra Leone, which helps disadvantaged girls in the region.
On the night, GIR will celebrate the people and firms behind the investigations and court cases that have impressed most in the past year.
We will also unveil the GIR 30, our ranking of law firms' investigations practices, based on our annual research for the GIR 100 – our guide to the best investigations firms.*
For the GIR Awards, we are looking for submissions in the following categories:
Most Impressive Investigations Practice of the Year
A law firm that has handled the largest and/or most complex investigations of the past 12 months and secured consistently good results for its clients.
Boutique or Regional Investigations Practice of the Year
A specialised or local firm that has acted in globally significant investigations and delivered outstanding outcomes over the past 12 months.
Investigations Consultancy of the Year
A non-legal investigations firm that has carried out consistent, invaluable and case-winning work during major investigations over the past 12 months.
Enforcement Agency or Prosecutor of the Year
A government agency, organisation or individual that has brought cases of global significance against sophisticated defendants in the past year.
Most Important Development of the Year
A recent event in the practice or law of international investigations – whether it is a law change, a technological innovation, a settlement, a policy announcement or something altogether different – that has had a seismic impact on how investigations are carried out. 
Most Important Court Case of the Year
Recent litigation that will have consequences for future investigations and enforcement for years to come.  
Outstanding In-house Counsel
An in-house legal or compliance professional who has helped their organisation overcome significant challenges in the past year.
Investigations Professional of the Year
A lawyer or other investigations professional who stands out for their stellar work in the last year, securing outstanding outcomes for their client(s).
The GIR Award for Services to Diversity
An investigations professional or team, in-house or at a firm, making significant contributions to building a more inclusive and diverse legal field.
GIR's Outstanding Career Award
We also welcome suggestions for GIR's Outstanding Career Award, which is traditionally handed out to one exceptionally respected and admired individual in the investigations community. Previous recipients include Timothy Dickinson of Paul Hastings, the late Rod Fletcher of Herbert Smith Freehills, and Lucinda Low of Steptoe & Johnson.
How to submit
If you wish for someone to be considered for their achievements in the past year, we strongly recommend that you put forward your submissions to our editorial team via the email address provided in the link below. 
We particularly welcome submissions from individual readers. When submitting as a firm, please put forward no more than three nominations per category.
This is not a public vote, but rather an opportunity to submit suggestions. A large volume of emails supporting a particular nomination will not influence GIR's decision.
Each nomination should include a brief description of under 300 words outlining why the nominee deserves an award for their work in the past year. Links to relevant news coverage and articles would also be helpful.
For the Services to Diversity Award, submissions can be up to 500 words and should specify concrete examples of accomplishments in support of creating greater diversity and inclusivity in the legal world.
For the Outstanding Career Award, we also ask for up to 500 words on why the individual's career is deserving of this recognition.
The deadline for submissions is 26 August.
*Please note that the GIR Awards nominations process is independent of our annual GIR 100 research. To be included in the GIR 100 and specifically the GIR 30, we consider a firm's institutional strength over time, while the GIR Awards celebrate specific impressive results in the past year. If you wish for someone to be considered for a GIR Award for their work in the past year we strongly suggest you submit a nomination for our consideration.