GIR Awards 2021: Most Impressive Investigations Practice of the Year and Investigations Consultancy of the Year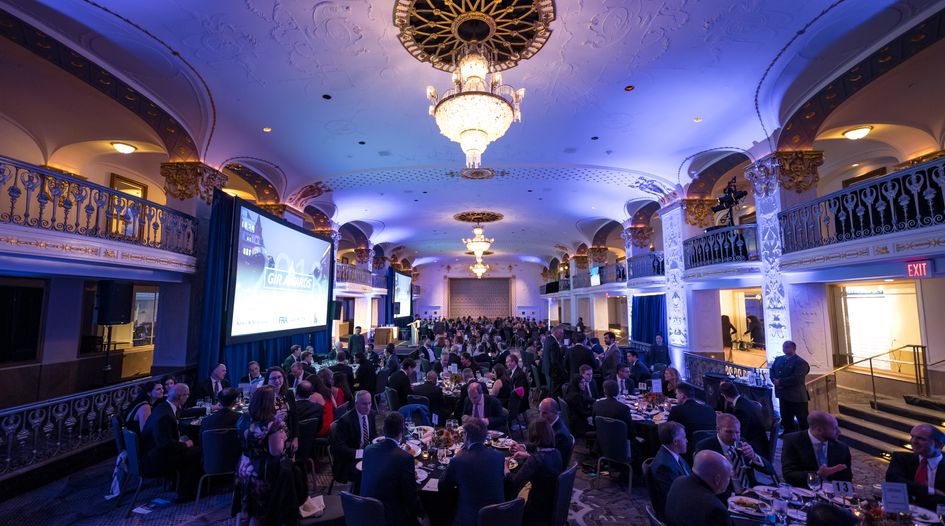 GIR unveils the shortlists for the next two categories of its seventh annual awards ceremony, which will be held in Washington, DC on 9 November.
Read on for the nominees in the categories Most Impressive Investigations Practice of the Year and Investigations Consultancy of the Year.
The shortlists for another six awards, including a new category to recognise an Investigations Practitioner of the Year, were released last week when GIR announced the nominations for Most Important Court Case of the Year, Outstanding In-house Counsel and a new award for an Investigations Professional of the Year.
GIR intends to host a black-tie event to celebrate the awards this year. We are offering risk-free registration in the event of cancellation. 
The evening will provide a chance to celebrate the investigations professionals and practices that have impressed most in the past year. GIR's top 30 investigations practices, as part of our annual GIR 100 research, will also be unveiled. 
The ceremony will be held in aid of Swawou Layout Girl's School in Kenema, Sierra Leone, which helps disadvantaged girls in the region.
Most Impressive Investigations Practice of the Year 
Paul Hastings
Paul Hastings has had another successful year across a host of white-collar matters, but has excelled particularly in the foreign bribery space. Partner Bob Luskin was part of a team representing Goldman Sachs on its record-breaking $2.9 billion resolution made with 10 authorities across the globe. The settlement resolved the investment bank's role in a bribery and embezzlement scandal at Malaysian sovereign wealth fund 1MDB. The firm also completed a monitorship for Panasonic Avionics following its 2018 foreign bribery settlement. The list doesn't end there; Paul Hastings also guided a handful of corporations to successfully complete FCPA cases in 2020, including for Brazilian companies Embraer and Braskem. What's more, Paul Hastings advised German software company SAP in an April settlement for $8 million, the first of its kind under the National Security Division's revamped voluntary self-disclosure programme. 
WilmerHale
WilmerHale has had its hand in a number of stand-out cases in the last year, including when William McLucas advised Goldman Sachs on the SEC portion of what is now the largest-ever penalty paid to US authorities in a foreign bribery case. The SEC secured a $400 million civil penalty in the record-breaking resolution with 10 authorities to resolve the bank's role in the bribery and embezzlement scheme concerning Malaysia's development fund, 1MDB. WilmerHale lawyers were also part of a team securing a win for former Citigroup trader Rohan Ramchandani and former JPMorgan trader Richard Usher when the US Office of the Comptroller of the Currency (OCC) dropped charges of forex manipulation against them in July. WilmerHale acted for Ramchandani. The firm represented California semiconductor company Dynatex International as it resolved US Commerce Department allegations that it illegally exported thousands of dollars worth of equipment to China. Separately, the firm guided US bank State Street on its $115 million deferred prosecution agreement over a scheme to overcharge customers by almost $300 million. 
Slaughter and May
Slaughter and May has had a stellar 12 months acting for clients on investigations-related matters. The firm advised Scottish energy company Wood Group on the UK portion of a $177 million global corruption settlement reached in June with authorities in the UK, the US and Brazil. The company's £103 million deferred prosecution agreement with the UK Serious Fraud Office resolved allegations that Amec Foster Wheeler, an engineering company that Wood Group acquired in 2017, paid millions in bribes to public officials in countries including Nigeria, Saudi Arabia and Brazil between 1996 and 2014. The firm recently acted for another UK company, British American Tobacco. The SFO said in January that it would not charge BAT following a corruption investigation that the agency opened in 2017, two years after the BBC reported allegations that the company had bribed officials in east African countries to subvert anti-smoking laws. Another Slaughter and May client, former Shell executive Malcolm Brinded, was acquitted of corruption charges in March following a three-year bribery trial in Italy in connection with a Nigerian oilfield scandal.
Latham & Watkins
The firm has secured three notable successes over the past year, spanning cases over allegations of trade secret theft and FCPA violations. Latham & Watkins guided Taiwanese chipmaker UMC to a $60 million settlement with the US Justice Department in October 2020 after it pleaded guilty to stealing US-made technology worth $8 billion. A few months later, the firm helped South Korean multinational LG Chem resolve a trade secret theft dispute with SK Innovation. SK Innovation agreed to pay LG Chem $1.8 billion in exchange for the latter dropping litigation over allegations that SK Innovation stole confidential information about its products. Latham & Watkins also helped Russian telecoms company Mobile TeleSystems fend off a lawsuit by investors, who claimed that the company misled them over the extent of its cooperation and remediation efforts in a foreign bribery investigation.
Gibson Dunn & Crutcher
The firm's main results stem from the significant corporate settlements it has worked on over the past year. It served as the US counsel for UK energy company Wood Group in a global $177 million bribery settlement with authorities in the US, the UK and Brazil. The trilateral resolution came three months after Gibson Dunn helped the company sign a related £6.5 million corruption settlement in Scotland. At the beginning of 2021, Gibson Dunn guided German lender Deutsche Bank to a $130 million FCPA and spoofing settlement with US authorities, shortly before another client, Indonesian paper products manufacturer Bukit Muria Jaya, agreed to pay a combined $2.6 million over two settlements, also with US authorities. The firm was part of a team advising Herbalife last year on its $123 million FCPA settlement over a decade-long bribery scheme. Herbalife was not required to retain a monitor. 
Sullivan & Cromwell
Sullivan & Cromwell made headlines in September 2020 when it represented investment bank JPMorgan Chase in a $920 million market manipulation settlement in the US – the largest ever penalty handed down for spoofing. It took the lead on another historic case when fellow investment bank Goldman Sachs agreed to pay $2.9 billion to 10 authorities across the globe the following month. The parallel resolutions, which resolved the bank's role in the scandal concerning Malaysia's development fund, 1MDB, represented the largest ever number of authorities banding together on a foreign bribery matter. 
Covington & Burling
Covington can boast wins in several significant cases over the past year, headlined by it helping Chinese electronics manufacturer Xiaomi win a landmark US court case that led to the removal of US sanctions against the company. The measures were imposed over Xiaomi's alleged ties to China's military. In another novel case, the firm helped South Korean multinational SK Innovation avoid a US import ban after a US trade commission sided with its local competitor, LG Chem, in a trade secret theft case. Finally, in late 2020, the DOJ dropped an FCPA investigation into Covington client Swiss-based pharmaceutical company F Hoffmann-La Roche after the firm's lawyers helped defeat a linked lawsuit earlier that year.
Davis Polk & Wardwell
Davis Polk had a busy past 12 months. In December 2020, the firm helped Chinese coffee chain Luckin Coffee resolve a much-discussed SEC investigation into its allegedly inflated sales figures. The company agreed to pay $180 million to resolve the case without admitting to any wrongdoing.  In another headline-grabbing case, the firm was tapped by the New York State Assembly in March to look into sexual harassment allegations against then-Governor Andrew Cuomo. He resigned in August. While, in October 2020, the firm helped Indian financial services company ICICI Bank obtain a declination in a four-year SEC investigation into its loan impairment provisions. 
Kirkland & Ellis
Under the leadership of Mark Filip, the firm's investigations team has had a hand in three major corporate settlements in the past year, thereby demonstrating its ability to navigate a range of legal and reputational problems for companies. Kirkland helped negotiate JPMorgan Chase's $920 million US settlement in 2020 over market manipulation and spoofing. In a particularly sensitive matter, the firm represented US aircraft maker Boeing on its $2.5 billion resolution concerning "half-truths and omissions" made by the aircraft maker's employees over the capabilities of its 737 Max airplane. The settlement included a $500 million fund to compensate the relatives of 346 people who died in two 737 Max crashes. Kirkland was also among the firms that guided Goldman Sachs to a historic $2.9 billion global settlement involving 10 enforcement agencies over the 1MDB corruption and embezzlement scandal. Any firm that can help negotiate such a complex settlement is worthy of recognition. 
Investigations Consultancy of the Year
FRA
Forensic Risk Alliance (FRA) had another impressive year. In May, the consultancy, alongside Dorsey & Whitney, helped Beijing-based data processing company Luokung Technology Corp win a reprieve from US sanctions targeting companies with alleged ties to China's military apparatus. The US government later removed the restrictions against the company. FRA founder Frances McLeod is acting as the compliance monitor for German automotive company IAV. The company had to appoint a monitor as part of its 2018 settlement with the DOJ tied to the diesel emissions scandal. FRA also worked on the monitorship of Brazilian aircraft maker Embraer, which was put in place following the company's 2016 settlement with the DOJ and it ended in November 2020.
BDO
BDO's work on monitorships, including the first ever imposed by the US Department of Commerce, concerning Chinese phone parts manufacturer ZTE stands out. The Chinese company entered a $1.2 billion settlement with the DOJ, Commerce Department and US Treasury in 2017 over allegations that the company breached US laws restricting the sale of technology to Iran and North Korea. The next year, the Commerce Department barred the company from exporting US-origin goods because it had failed to fulfill a condition of the settlement by not punishing individuals responsible for the misconduct. ZTE has obligations under two monitorships for the DOJ and Commerce Department, led by James Stanton in Dallas and Roscoe Howard at Barnes & Thornburg in Washington, DC, respectively. BDO has been instrumental on the Commerce Department monitorship, including assisting with inspections around the world and taking on audit responsibilities.
StoneTurn
StoneTurn has a strong reputation in the investigations market, an image that will only be enhanced by its impressive work supporting Volkswagen's monitor Larry Thompson. Last year, the German car maker successfully completed a three-year monitorship as part of a US settlement resolving conduct that it cheated emissions tests. StoneTurn played an integral role in seeing the monitorship to fruition by providing forensic and project management expertise. Thompson, for example, made one of StoneTurn's partners, Michele Edwards, his chief of staff during the monitorship. StoneTurn's dedication to the project went further, with some staff permanently stationed in Germany during the monitorship. The firm also helped navigate unprecedented challenges with the monitorship completed in the midst of the pandemic.