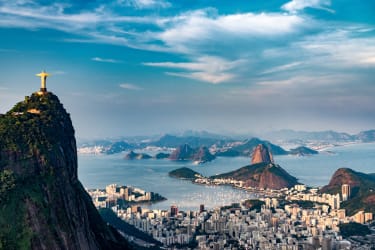 Christ the Redeemer, Rio de Janeiro (Credit: iStock)
Brazil's prosecutor general has requested that some of the $682 million paid by state-controlled oil company Petrobras to resolve a bribery probe be allocated to financing the fight against the coronavirus.
Prosecutor General Augusto Aras asked the Supreme Court on 19 March to order that the remainder of the money Brazil received from the 2018 bribery settlement be put towards containing the coronavirus outbreak, according to a statement from Brazil's Federal Prosecution Service (MPF).
Aras said that the situation "requires that emergency and extraordinary actions be taken in order to not only contain the spread and contagion of the virus but also to care for the sick and the people who are most at risk".
Minister of the Supreme Federal Court Alexandre de Moraes will review the request.
Petrobras agreed to pay $1.8 billion to the MPF, the US Department of Justice and the US Securities and Exchange Commision in 2018 to resolve allegations that company executives facilitated hundreds of millions of dollars worth of bribes to Brazilian state officials.
Brazil's Supreme Court ratified an agreement to distribute more than $390 million to the education department in 2019, including $60 million to a programme aimed at protecting vulnerable children and another $60 million for education initiatives provided by Brazil's science ministry. A further $260 million was earmarked for environmental projects in the Amazon region.
The allocation of the Petrobras settlement funds has been a point of debate in Brazil since the company entered into an $850 million bribery settlement with US and Brazilian authorities in 2018.