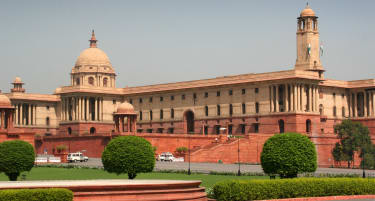 India's Parliament in New Delhi
iStockphoto.com/YinYang
India has passed an amendment to its anti-corruption laws that will allow authorities to go after businesses and individuals that pay bribes to Indian government officials.
India's lower house passed the Prevention of Corruption (Amendment) Act 2018, amending the Prevention of Corruption Act 1988, on 24 July.
The amended Act criminalises the paying of bribes to government officials. Previously, it was a criminal offence for a government official to receive a bribe but not to pay an official a bribe.
Under the new Act, individuals caught paying a bribe could be imprisoned for up to seven years. There is no minimum sentence for the crime and guidance on sentencing has not yet been released.
The amendment also makes it a criminal offence for a business to bribe a public official.
A business can be found guilty of bribery if anybody associated with that business is found to have bribed, or promised to bribe, a public official in return for business or any kind of commercial advantage.
In cases where a federal government official has received a bribe, the law will be enforced by India's Central Bureau of Investigation. Where the bribe was paid to a state government official, local enforcement agencies will investigate and prosecute.
The parameters and a methodology for setting the value of corporate fines has not yet been announced.
Under the amendment, India's central government must now publish guidelines around internal mechanisms businesses need to have in place to combat corruption. Companies that comply with the guidelines will have a defence against a prosecution for bribery.
Anshul Prakash at Khaitan & Co in Mumbai said that he expects that the new compliance guidelines will not be radically different from procedures to abide by the Bribery Act 2010 or the US FCPA.
Prakash said that he expects the government to come up with the guidelines "fairly quickly" in light of India's upcoming general election, in April or May 2019. He says the guidelines will most likely be formulated through an inter-ministerial consultation process, which may include the Union Ministry of Home Affairs, Ministry of Personnel and Ministry of Corporate Affairs.
According to Prakash, companies will have to be careful about gifts and hospitality provided to government officials since these will most likely be regarded as bribes under the Act.
"People have been so used to a culture of giving gifts for Diwali, or Holi, or any festival holiday and it is such an accepted norm.
"Businesses are going to have to put clear policies in place about what kind of gifts, if any, can be given to government officials," he said.
There has been some criticism in local media that parts of the amendment soften anti-corruption laws applying to government officials.
The Act requires the relevant anti-corruption agency to seek permission from the state or federal government employing the accused officials before it can investigate them. Previously, permission was required to prosecute but not to investigate.
Prakash said the so-called sanction requirement is a "major drawback" to the amendment.
"Ideally it should have been the case that an instance of alleged bribery would be enough for a person to be investigated," he said.
Another change that could have a potential chilling effect on prosecutions is the scrapping of protections for witnesses who gave bribes.
Even before the introduction of a specific criminal offence for bribery provided by the new Act, individuals could be prosecuted under abetment rules in the Indian penal code.
However, bribe-givers who testified in court against officials who accepted bribes were protected from prosecution for abetment.
Under the new rules, this protection no longer exists and witnesses could also face charges of bribery themselves.
Prakash said that he is concerned that this may discourage people from testifying against corrupt officials.
"The people testifying against government officials in corruption trials ought to be given that protection as it existed under the law prior to the amendment," he said.
India's new anti-corruption legislation applies only to the bribing of officials. There is currently not a specific law banning commercial bribery.