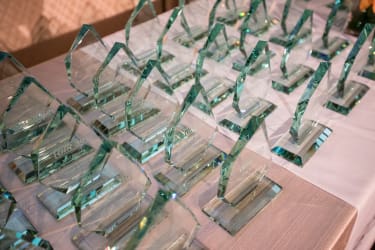 Credit: Freedom Film LLC
GIR is seeking nominations for its fourth annual awards ceremony which will be held on 25 October at the Mayflower Hotel in Washington, DC.
Please send your nominations by the end of the day on 14 August to GIR's editorial team.
Practitioners and experts are invited to submit nominations, on a strictly confidential basis, for the following categories:
Most impressive investigations practice of the year: a law firm that has handled the largest and/or most complex investigations of the past 12 months and secured consistently good results for its clients.
Boutique or regional investigations practice of the year: a smaller firm that has acted in globally significant investigations and delivered outstanding outcomes over the past 12 months.
Investigations consultancy of the year: an audit firm or technology consultancy that has carried out consistent, invaluable and case-winning work during major investigations over the past 12 months.
Enforcement agency or prosecutor of the year: a government agency that has brought cases of global significance against sophisticated suspects in the past year.
Emerging enforcer of the year: a government agency that has made its mark on the global stage by bringing complex enforcement cases of global significance in the past 12 months.
Most important development in the practice or law of international investigations of the past year: a recent event, whether it is a law change, technological innovation or something altogether different, that has had a seismic impact on how investigations are carried out. 
Most important court case of the past year: recent litigation that will have consequences for future investigations for years to come.  
Innovation of the year: a truly innovative legal or practical solution to help a client overcome a challenging issue during an investigation.
Outstanding in-house counsel: an in-house legal or compliance professional who has helped his or her organisation overcome significant challenges in the last few years.
Each firm is asked to make only one submission containing a maximum of three nominations per category.
This is not a public vote, but rather an opportunity to submit suggestions. GIR's journalists will not be swayed by a large volume of emails containing a particular nomination.  
Each nomination should include a brief description, not exceeding 200 words, of why the nominee deserves an award. Links to relevant news coverage and articles would also be greatly appreciated.
The Awards Ceremony
The black-tie event at the Mayflower Hotel will provide a chance to celebrate the investigations lawyers and practices that have impressed most in the past year.
On the night, GIR's top 30 investigations practices will also be unveiled, and proceedings will culminate with a career achievement award for one exceptionally respected and admired individual.  
At the ceremony last year, GIR journalists were joined by lawyers, prosecutors and in-house counsel from around the world for a three-course dinner and speeches.
Among last year's winners were Paul Hastings, which won the Most Impressive Investigations Practice of the Year award for helping medical device company Orthofix secure its FCPA settlement in the US and Braskem with its landmark trilateral settlement. Brazil's Federal Prosecution Service (MPF) won the Enforcement Agency 2017 award for their relentless investigation of companies and individuals in Operation Car Wash, including the monumental settlement with Odebrecht and its subsidiary Braskem. GIR also awarded Steptoe & Johnson partner Lucinda Low with the Outstanding Career Award.
Please note, we will not be accepting nominations for the GIR 30, as winners for this category will be selected based on confidential information already submitted for the GIR 100.
Registration for the awards ceremony is now open. We also invite you to join us for the GIR Live DC Fall conference, which will take place prior to the awards ceremony on the afternoon of 25 October.
GIR Awards will be held in aid of Swawou Layout Girl's School in Kenema, Sierra Leone. The school helps disadvantaged girls in the region.