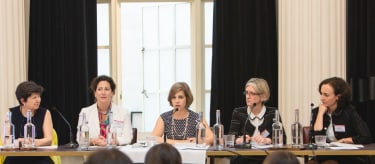 From left to right: Lucinda Low, Olivia Radin, Katherine Lemire, Susannah Cogman and Martina de Lind van Wijngaarden.
Lawyers with monitorship experience shared their thoughts on how companies can keep the costs of monitorships rocketing up at GIR's first-ever Women in Investigations conference.
Speaking on 28 June, the panellists said companies can keep the costs of monitorships down by making sure the scope of the project is limited to future compliance and not past wrongdoing. Olivia Radin of Freshfields Bruckhaus Deringer in New York said that costs of a monitorship "can rocket up" if the scope of the monitorship includes looking into past misconduct already covered by a settlement.
Monitorships can be extremely expensive, so much so that the US Department of Justice (DOJ) has previously warned prosecutors to be mindful of the costs of monitors, and their potential impact on the corporation when negotiating settlements.
Radin was on the panel entitled "Monitorships: a survival guide" that also featured Susannah Cogman of Herbert Smith Freehills in London and Katherine Lemire of Lemire LLC in New York. The panel was moderated by conference co-chairs Martina de Lind van Wijngaarden of Freshfields in Frankfurt and Lucinda Low of Steptoe & Johnson in Washington, DC.
All panellists, including Lemire, have worked on monitorships in the past. Lemire is currently overseeing her company's role on a monitorship of an unnamed Swiss bank, and on a monitorship of a waste-hauling company with a history of organised crime involvement, according to her company profile.
During the discussion, Lemire said that a company should ensure that the costs of a monitorship remain low by watching the overheads, especially in cross-border matters.
"What you want to do is impose on the monitor or ask if you can impose on the monitor the same travel policy as your employees," Lemire said.
She also said companies can keep the costs of monitorships down by ensuring that members of the monitorship team don't pick the most expensive meals and tickets. Lemire said that during a monitorship she once worked on, a member of the team bought a $400 bottle of wine for dinner with just three people.
"Whether you are the monitor or the entity being monitored, you've got to make sure that kind of obscene expensing doesn't happen," she said.
Panellists also spoke about how to ensure that a monitorship goes smoothly both for the monitor and the company. In the US, monitors are typically imposed on companies as a condition of resolutions agreed with the Justice Department and other US authorities. As a result, Lemire said that the relationship between a monitor and a company can be adversarial, but that it is both the monitor and the company's job to ensure it isn't.
"There are things both parties can do to get everyone on board," she said.
She said that monitors can hold town hall meetings with staff and that, in turn, the company can speak to employees, including in-house counsel, to let them know they have to comply with the monitor.
"Don't forget that your in-house counsel was part of the adversarial relationship [between the company and the authority]," she said. "You have to make sure they both now understand that everybody has to now get along."
At the end of the discussion, Low asked the panellists to give members of the audience advice on how to obtain monitorships.
Radin said that it's a little bit of who you know and how you're known. Radin said that the thing companies fear the most is a runaway monitor, so having the reputation of being reasonable and of not "boiling the ocean" will help. So too will credibility and clout, she added.
Lemire said that people have to be savvy to win monitorships by reassuring the company that the costs won't be high and by having real experts in their team. She said that she keeps an eye out for possible monitorships by scanning headlines.
"I take note of who is representing a company and reach out to lawyers I know at the firm to let them know I am capable and available," she said.
GIR Just Anti-Corruption has previously revealed the lack of diversity in FCPA monitorships, reporting in February that since 2004 over 40 white men have been awarded FCPA monitorships, while only three women and three non-white male professionals have been picked for such assignments. No women of colour have ever been selected for a foreign bribery monitorship.
Following a freedom of information request first filed in 2015, GIR Just Anti-Corruption recently obtained records of the candidates for 14 FCPA monitorships in between late 2009 and early 2015. The records reveal that of the 29 monitor candidates put forward by companies, all were men, and the majority were former government officials.
In a deferred prosecution agreement with Panasonic Aviation announced in late April, the Justice Department's criminal division fraud section for the first time included a provision that said compliance monitors will be picked in accordance with its commitment to diversity. At the conference, panellists referenced the development and said they hoped this means more women will be selected to be monitors by the DOJ.