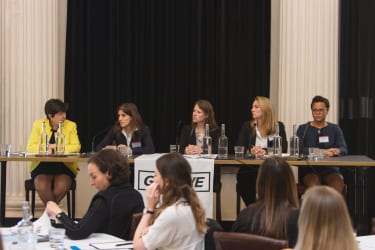 Using artificial intelligence and predictive coding will make investigations faster and cheaper, and can help avoid disclosure failures, white-collar practitioners said at GIR's Women in Investigations conference.
During a panel titled "Practical aspects of international investigations and Q&A", at the GIR Women in Investigations conference in London on 28 June, speakers discussed how technology can help investigators get to grips with the explosion of electronic documents and data, including emails and WhatsApp messages, to be reviewed in investigations.
Rita Mitchell of Willkie Farr & Gallagher in London said: "I'm not sure that there enough junior attorneys in the world to deal with the amount of information that is coming down the line".
Kristin Rivera of PwC in San Francisco told the audience that predictive coding – where a computer is trained to pick out relevant documents – could offer a solution, as it is more accurate, more time efficient and vastly more cost effective than human review.
She said that despite being involved in over 1,000 investigations, she had only seen predictive coding used once as the sole source of an email review.
"Once our corporate clients learn about how more cost effective this can be we are going to start to see pressure coming to use this technology," Rivera said. "Eventually there will be a sea change. We all need to get ready."
Meanwhile, Joanna Dimmock of White & Case in London pointed to the UK Serious Fraud Office's (SFO) investigation into Rolls-Royce as an example of where artificial intelligence (AI) has been successfully used by a prosecuting agency in a white-collar investigation.
Following the deferred prosecution agreement with Rolls-Royce, the SFO has explained how AI assisted it in the review of over 5 million documents in one month, as opposed to the two years it would ordinarily have taken the authority. The SFO has said that the technology helped it identify 2.35 million documents which were not privileged and could be immediately released to the case team.
Dimmock also said that issues around disclosure – a hot topic among the criminal bar in London as several rape trials in London recently collapsed because prosecutors and police failed to disclose crucial evidence to defendants – may well be resolved by artificial intelligence.
She cited Lord Justice Gross' speech on disclosure at an event organised by the Criminal Bar Association of England and Wales in June, in which he mentions the collapsed Liam Allan rape trial as an example of a highly publicised failure around disclosure.
The Crown Prosecution Service (CPS) dropped its prosecution of Allan after police disclosed 40,000 messages from the defendant's phone, among which were messages that undermined the prosecution's case.
In the speech, Lord Justice Gross said that this kind of failure could potentially be avoided using technology that could reduce the amount of time needed to go through material.
Dimmock said: "Last week Lord Justice Gross gave a speech to the Criminal Bar Association noting that AI, subject to trust and confidence in that system, may well be able to resolve some of these disclosure issues. Watch this space".
Lucinda Low of Steptoe & Johnson in Washington, DC, the conference co-chair and moderator of the panel, pointed out that AI only makes sense when dealing with a high volume of material.
Rivera agreed: "If you only have 5,000 emails or something then you just need to get on with it and do it the old-fashioned way".
Cheryl Scarboro of Simpson Thacher & Bartlett in Washington, DC, said: "It makes sense if you think about it, a lot of these cases involve huge amounts of data which means that investigations would otherwise take forever".
She said that she had found the US government is more "tech savvy" than ever before and open to accepting the use of new technologies. However, she also said that using artificial intelligence does not always go to plan.
She gave the example of a case in which she had suggested that a client use software to translate material from a foreign language.
Unfortunately, she said, the technology failed, throwing up "random words like dog and cat and refrigerator" in places they didn't belong.
She said that going back over the translations to remove the nonsensical phrases would have been more work than getting the documents translated traditionally, so the use of technology was abandoned.
But, she said: "I was happy to see that they were at least willing for us to give it a shot and let us try it out."
The conversation on AI was sparked by a question submitted by Amy Wilkinson of CMS in London.
GIR's first-ever Women in Investigations conference was held at Grace Hall in London on 28 June. Along with Low, the event was co-chaired by Martina de Lind van Wijngaarden of Freshfields in Frankfurt.
On the same day, GIR unveiled the results of the 2018 Women in Investigations survey, at an all-conference dinner sponsored by PwC.
The conference was organised in association with the Women in White Collar Defense Association.