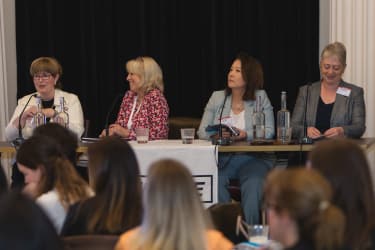 From left to right: Karen Popp, Jodi Avergun, Shin Jae Kim and Nicola Northway
Lawyers report that the US Justice Department won't fully credit a company for cooperating with an investigation unless its lawyers exhaust all possible workarounds to obtain information held outside the US.
Speaking at GIR's inaugural Women in Investigations conference on 28 June, Jodi Avergun of Cadwalader Wickersham & Taft in Washington, DC, said that the US Department of Justice (DOJ) will demand that companies have exhausted all creative solutions to obtain overseas data before it's satisfied that the company has cooperated with the investigation.
"If you can really establish that it's a problem [getting overseas data], they [the DOJ] will be slightly more understanding, but they still want it," Avergun said. "You'll be expected to find a workaround and if you don't try, you won't get that extraordinary cooperation credit."
Sidley Austin partner Karen Popp, who moderated the panel, added that she had a case where prosecutors from the DOJ and US Securities and Exchange Commission were "furious" that a company she represented couldn't turn over information located in France.
The lawyers' comments come amid a massive shift in how data can be transferred between EU countries and non-EU countries, thanks to the EU General Data Protection Act (GDPR). The act, which came into force on 25 May 2018, strengthens data privacy rights and protections for all EU citizens and radically changes how companies can store and process data.
Breaching GDPR could result in penalties up to €20 million or 4% of annual turnover, whichever is greater. Data privacy lawyers have previously said that GDPR puts up hurdles for companies within the EU wishing to transfer data to the DOJ as part of an investigation.
The GDPR demands that information transferred between countries must be done via a request under an existing mutual legal assistance treaty (MLAT), which is a government-to-government treaty to share information.
The DOJ has traditionally relied on companies to provide information because MLAT requests are cumbersome and take a lot of time. Lawyers have previously said that an effective way to placate the DOJ is to ensure that the country holding the information processes the DOJ's MLAT quickly.
"Prosecutors are very sensitive people"
The panel, titled 'negotiated resolutions and coordinating them' covered a variety of topics, including how to self-report when multiple authorities are investigating a matter. Avergun said that in this situation lawyers "can't give to one [authority] without giving to another", joking that "prosecutors are very sensitive people".
She also said that it is important for lawyers to attempt to get "regulators talking to one another" to ensure they're coordinating and not running isolated investigations. Avergun said this can lead to a company receiving multiple fines from several countries for the same misconduct. This effect, colloquially known as 'piling on', has been a source of great frustration for companies.
To address concerns about piling on, Deputy Attorney General Rod Rosenstein announced in May that the DOJ adopted a new policy that discourages unnecessary piling on for identical misconduct. However, lawyers said that the policy merely formalised the department's existing stance.
Speaking about self-disclosure to Brazilian authorities, panellist Shin Jae Kim, of TozziniFreire in São Paulo, said that in Brazil companies could be dealing with investigations from up to eight authorities. In terms of self-reporting to them, she said: "You need to give over a lot of information and you must also prove that the information is good enough."
The panel also featured Nicola Northway of Baker McKenzie in London.