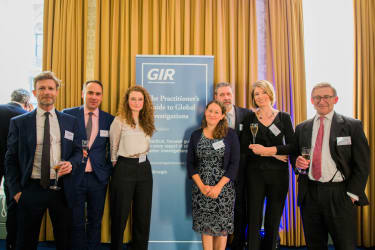 Photos from the launch party of the second edition of GIR's The Practitioner's Guide to Global Investigations. The event was held at the Law Society of England and Wales on Chancery Lane in London.
Investigations practitioners from around the world gathered on 22 May to celebrate the launch of the book, which covers what to do at every stage of a corporate investigation.
The book is available to read, download and buy on the GIR website. The hard copy of the second edition features margin cross-referencing and is fully indexed.
The book was edited by Judith Seddon at Ropes & Gray and Eleanor Davison at Fountain Court Chambers, Christopher Morvillo and Luke Tolaini at Clifford Chance and Michael Bowes at Outer Temple Chambers.
If you have any questions about the guide, including information on how to contribute to upcoming editions please contact Edward Perugia.