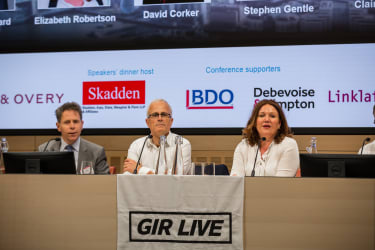 David Corker, Elizabeth Robertson and Stephen Pollard
Lawyers should watch out for a provision in the UK Criminal Finance Act which allows law enforcement officials to freeze assets held in UK bank accounts, an audience at GIR Live London heard on 26 April.
Speaking at GIR Live Question Time at the 4th annual conference in London, David Corker at Corker Binning said that while the Criminal Finances Act's (CFA) provisions about Unexplained Wealth Orders and the new offence of failure to prevent the facilitation of tax evasion have grabbed the headlines, it's another section that's worth looking out for.
He said that litigation will focus on section 16 of the CFA, which allows authorities such as the UK Serious Fraud Office (SFO) and the National Crime Agency (NCA) to ask a magistrate to freeze assets if there are reasonable grounds to suspect money held in a local bank is intended for unlawful conduct.
Corker added: "It offers an easy means by which law enforcement can freeze and potentially seize enormous sums of money," he said.
The CFA, which became law in April 2017, introduced Unexplained Wealth Orders (UWOs), which enable authorities such as the SFO and the NCA to compel targets to explain how they obtained their assets, and a provision that holds companies liable for failing to prevent the facilitation of tax evasion.
"Understandably, a lot of the attention on this act is centered on UWOs and the facilitation of tax evasion offence, but that really misses the point," Corker said.
Corker said that the two offences will rarely be prosecuted because the provisions are "largely symbolic".
Corker made the remarks on a panel moderated by Stephen Pollard at WilmerHale and Elizabeth Robertson at Skadden Arps Slate Meagher & Flom. Others panellists included Stephen Gentle at Simmons & Simmons, Claire Lipworth at Hogan Lovells and Elly Proudlock at Linklaters.
Gentle agreed with Corker that freezing orders under section 16 of the CFA are a risk, but said they probably won't be used by the SFO in large investigations.
"I agree they are a shiny new tool, but I am perhaps being more sceptical about how frequently they are going to be used, particularly in the context of an investigation," Gentle said.
Meanwhile, Lipworth said UWOs will be important going forward because the UK government previously said in June 2017 that up to 20 applications for the orders will be issued per year.
"If there are 20 quite big ones, there's room for those orders to make a big impact," she said.
Lipworth said that UWOs are particularly "scary" because if an individual wants to contest an order, any information they submit to do so can be used by the authority that obtains the order and other authorities in subsequent investigations.
XYZ and privilege
During GIR Live Question Time, lawyers discussed the XYZ judicial review decision on 19 April and said it highlighted the SFO's inconsistent approach to legal privilege. In the 19 April ruling, two high court judges rebuked the SFO for failing to demand written notes of interviews from XYZ before it offered the company a deferred prosecution agreement in 2016.
The judges made the remarks in a judicial review case brought by AL, a former employee of XYZ, who has been charged with conspiracy to bribe and conspiracy to corrupt and wants the written notes of the interviews to prepare for his defence. The SFO said in October 2017 it would take no further action against XYZ, which refused – before and after it obtained the DPA – to hand over interview notes, stating these were privileged. Though the judges ultimately tossed out AL's judicial review, they criticised the SFO for allowing XYZ's claim of privilege to go unchallenged, even though the authority clearly disagreed with it.
"I do think it's a very interesting case and in light of where we are with LPP [legal professional privilege] it's rather inconsistent," Lipworth said.
Lipworth said the SFO should have applied for witness summons or started breach proceedings against XYZ after the company refused to hand over the documents. In doing so, she echoed remarks made by the judges in the ruling who suggested the SFO's next steps to resolve the disclosure issue with AL should have taken that course.
Overall, the panellists were highly critical of the SFO's approach to the case, with Gentle stating that the authority was "slack and a little bit lazy".
Proudlock said that going forward, the SFO must think carefully about how it balances the pragmatism of cooperating with companies with its duty in proceedings against individuals.
New director: new direction?
The panellists spent a great deal of time discussing priorities for the successor to former SFO director David Green. Green's tenure as director ended on 20 April. He has been replaced in the interim with the SFO's chief operating officer, Mark Thompson. Following a Private Eye article published in early April, Green's successor is said to be Lisa Osofsky, a US lawyer and UK barrister who is the managing director and head of investigations at consultancy company Exiger in London. Osofsky previously worked at consulting company Control Risk between 2006 and 2013, and was the deputy general counsel at the FBI between 1996 and 2000.
During the discussion, an audience member asked how the legal community, if the rumours are true, will cope with an American at the head of the SFO. Robertson said that there will inevitably be tensions, but that a healthy balance will be struck. "My feeling is she will be able to handle this well," Robertson said.
Corker said that though he doesn't know her, he believes that Osofsky will make the SFO "less British and more aggressive". Corker also speculated that Osofsky will be more receptive to claims of privilege than Green was, in line with US authorities' approach to privilege in corporate investigations.
The panellists said that Osofsky's priority should be to maintain Green's legacy, and to ensure consistency across the SFO to speed up investigations.
GIR Live London was held in Allen & Overy's office in London.