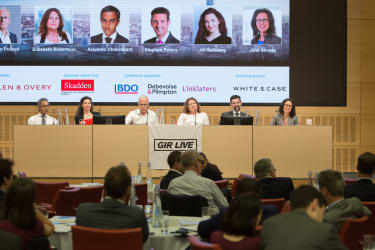 GIR Live London: Panel One
London criminal defence lawyers bemoaned enforcement agencies' obsession with oral accounts to build cases, questioning the reliability of the evidence.
Speaking on a panel at GIR Live London on 26 April, co-chair Stephen Pollard at WilmerHale in London and panellist Ali Sallaway, of Freshfields in London, questioned why enforcement agencies rely on witnesses' and defendants' first accounts given that oral evidence becomes less reliable as time passes and memories fade.
Sallaway criticised "prosecutors and a number of agencies" who "get so overexcited about a first account, or even any account for that matter". She prefaced this by saying that "the best evidence is contemporaneous written evidence".
Pollard, who co-chaired the panel with Elizabeth Robertson at Skadden Arps Slate, Meagher & Flom's London office told the audience an anecdote from the 1998 inquiry into the killing of 13 Irish civil rights demonstrators by British troops in 1972, commonly referred to as Bloody Sunday. As part of the inquiry, Pollard's team needed to interview former soldiers about incidents from almost 30 years prior.
According to Pollard, a forensic psychologist brought in to assist his team told them that "no one can remember anything reliably". Pollard relayed the analogy the psychologist told him about how memory is like a video tape, and each time a person recalls memory, they edit it slightly.
"It's a fool's errand both for us in relation to our witnesses and certainly for the authorities to think that what people remember happening is in anyway reliable," Pollard said. "You get the emails, get the supporting materials, you try and reconstruct around those fixed points and you may get to a point where a person's fill-in memory is more reliable than not."
The UK Serious Fraud Office (SFO) former director, David Green, said at several public appearances during his tenure that the SFO demands the first unvarnished accounts from witnesses during investigations.
The panel covered a wide range of topics under the general banner of the difference between US and UK enforcement. The panel also featured Jane Shvets at Debevoise & Plimpton in London, Allen & Overy partner Arnondo Chakrabarti and Stephen Peters at BDO in London.
One of the other topics the panel discussed was whether the willingness of UK authorities to offer deferred prosecution agreements (DPAs) is influenced by a political desire to raise money.
Pollard said: "You saw a lot of political ears pricking up at the Rolls-Royce settlement, and the amount of money that could come into the Treasury if they could normalise that way of dealing with it." UK engineering company Rolls-Royce entered into a £497 million DPA with the SFO in January 2017 to resolve allegations employees and third parties bribes officials in several countries.
Peters said he's seen a "worrying trend" of the SFO being "far more willing to enter into DPAs", which, he believes, is influenced by a desire to raise cash.
GIR Live was held at Allen & Overy's London office on 26 April.