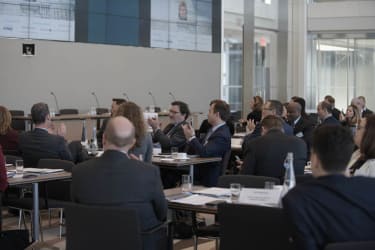 Photos from GIR Live Washington, DC, held at Covington & Burling on 22 March.
The conference was chaired by Kathryn Cameron Atkinson, while Matt Alexander at Mayer Brown filled in for co-chair Laurence Urgenson, co-leader of Mayer Brown's global anti-corruption and FCPA practice.
John Gibson from the UK's Serious Fraud Office gave the keynote speech. During a Q&A session following his keynote, Gibson told practitioners that some reporting on the 2017 SFO v ENRC case had been "melodramatic".
Gibson also discussed interview strategies during a panel that tackled UK and US perspectives on legal privilege and internal investigations.
In a second panel on the day, lawyers warned that US Department of Justice and Securities & Exchange Commission officials are at times taking different positions on the appropriate level of disgorgement.
The conference was sponsored by KPMG, Kirkland & Ellis, King & Spalding, WilmerHale, Mayer Brown, Trace International, ICC FraudNet, and the International Compliance Association.