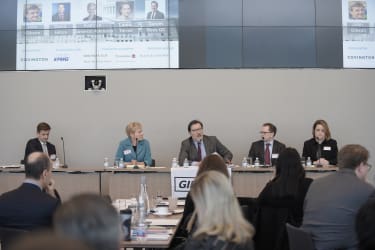 GIR Live DC
A senior official at the SFO has said the authority is not averse to companies conducting interviews with individuals, but that it wants them recorded.
Speaking at GIR Live DC on 22 March, UK Serious Fraud Office (SFO) case controller and barrister, John Gibson, said the SFO's previously stated desire to interview some individuals first, before the company does so, doesn't mean the authority prohibits a company's lawyers from conducting interviews altogether.
"There is no SFO rule prohibiting interviews of company personnel," Gibson said, adding that if the company investigates and believes it needs to interview key actors the SFO's approach would be to ask the company to record the interview.
Gibson made the remarks during a panel that tackled UK and US perspectives on legal privilege and internal investigations.
"I would say we should encourage cooperating companies to engage in internal investigations and if in doing so they also want to interview people then do it in a way that leaves flexibility," Gibson said.
The panel was moderated by Kathryn Cameron Atkinson at Miller & Chevalier and comprised Gareth Rees QC at King & Spalding, David Hilton at KPMG and Laura Terrell at DLA Piper.
In response to Gibson's comments, Rees said that the SFO's numerous statements on the topic over the past six years may have given the impression that it is best for legal counsel to do nothing.
"They [SFO investigators] also fail – and this may be what the new director should think about – to realise that corporates, certain financial institutions, have immediate responsibilities to conduct early investigations because they have statutory obligations to report potential misconduct and make disclosures to the market."

Rees said he is unsure whether the SFO understands those obligations, and that at times, regulators such as the UK Financial Conduct Authority and the Financial Reporting Council (FRC) – where Rees previously served as executive director of enforcement and executive counsel – have to nudge them to remind them.
Gibson said London lawyers are increasingly willing to outline their investigative strategy to the SFO, and in many instances, the lawyers will tell the SFO who they plan to interview, as well as who they plan not to interview, to allow the authority to speak to the individual first. "It's definitely the direction of travel we think is correct," Gibson said.
The comments echo similar remarks by the SFO's joint chief of bribery and corruption, Camilla de Silva, on 15 March. Addressing a group of compliance officials at a London conference, De Silva said that the authority wants companies to be open about its interviewing strategy and to hand over recordings and interview notes.
During the panel discussion, Gibson also outlined when the SFO will be willing to contest claims of privilege in court. Gibson cited SFO v ENRC as an example, but also said the authority is willing to contest claims of privilege to ensure an individual's rights to a fair trial aren't impeded.
"Not only do we think we should, but our disclosure rules and our rules pertaining to a fair trial require us to take absolute scrutiny to claims of privilege, and, where those circumstances exist we will litigate," Gibson said.
At the start of GIR Live DC, Gibson said reports on the ENRC eroding litigation privilege were "a bit melodramatic" in a keynote speech in which he also praised the SFO's outgoing director, David Green.
Later in the day, lawyers on another panel warned that DOJ and SEC officials are at times taking different positions on the appropriate level of disgorgement.